If your head isn't already spinning, here's some more detail.
Gauge, short and simple, is the distance between the rails. This holds true for full-scale real railroads, and it holds true for models, as we saw above.
I said I'd follow up with that "most commonly used" phrase. Here's what I mean.
Model railroaders generally have two decisions to make when they start: what railroad do they want to model, and what scale do they want to model it in?
Let's say somebody is modelling Union Pacific. Well, that's a standard-gauge railroad: the real thing is built with tracks 4' 8½" apart. They may decide to model it in HO scale, meaning that all their equipment, their track, their scenery—everything—will be represented 1/87th actual size. So they'll use 16.5mm track.
On the other hand, let's say somebody else is modelling the Denver & Rio Grande Railroad. While they may decide to model it in HO scale (using buildings, figures, etc. that are 1/87th actual size,) the real D&RG had tracks that were only 3 feet apart, not 4' 8½". That is to say, it was a narrow-gauge railroad. Modelling that in HO scale means that the 16.5mm track would be too wide.
Somebody else might want to model one of the two-foot gauges found mostly in Maine. While also represented in HO scale, the track on this layout would be far narrower than the 16.5mm gauge normally called for in HO. As it happens, though, N-scale's 9mm track is really very close to what's needed. Since track in this gauge is commercially available, it's common to just use N-gauge track to model HO-scale 2-foot narrow gauge railroads.
So that's where the "most commonly used" comes in.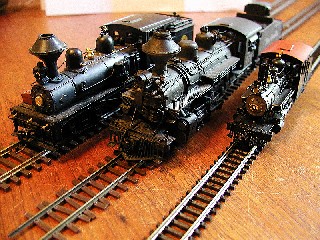 These three locomotives are all HO Scale, but they run on different gauge track.
The picture shown here illustrates the point. All three locomotives shown are HO scale, in that they are 1/87th the size of the real things. The one on the left is a standard gauge Shay locomotive, sitting on 16.5mm track. The middle locomotive is a 3-foot narrow-gauge locomotive, and it's sitting on special HOn3 narrow-gauge track. Finally, the rightmost locomotive is still 1/87th scale but is designed to run on 30-inch track (which just happens to be N-gauge track.)
In the same vein, there's a scale larger than HO called O (which is 1/48th scale as opposed to HO's 1/87th scale.) There's a growing interest in narrow-gauge modelling in that larger scale (allowing more detail, and catering to an aging population.) It should come as no surprise that O scale models depicting 30-inch (2½ foot) gauges can leverage HO's 16.5mm track.
That's why it's important to keep gauge and scale distinct in your mind. One's a number you get from a tape measure or caliper, the other is a ratio....