I see this all the time, and I'll say that I've been guilty of it myself over the years. It's the use of the terms scale and gauge, and in particular, the use of gauge when the person means scale.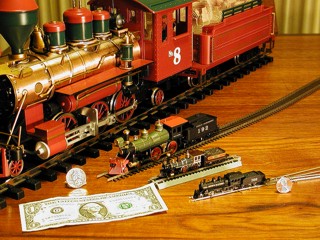 This picture shows the difference in scale. From left to right we see locomotives in G, HO, N, and Z scales. A dollar bill, quarter, and penny are also shown to give you a sense of size.
What's the difference? Well, scale is an indication of how much smaller the model is than the real thing. HO scale is 87.1 to 1, for example, O scale is 48 to 1, N scale is 160 to 1, and Z scale is 220 to 1. So, when somebody is using terms like O, HO, N, and Z, they are referring to the scale of the model.
Gauge, on the other hand, refers to the distance between the track. In the real world, most trains run on track that is 4 feet 8-1/2 inches apart. That's a standard, so it's referred to as standard gauge. But of course, not every railroad company in the real world agrees that 4'8-1/2" is right for them, so you have a handful of other gauges, three feet being a fairly common one. This is narrower than the standard, so it's referred to as narrow gauge. Other roads are broader, and they're referred to as broad gauge
In modeling terms, most people in the hobby use HO (scale)—with O and N both having large followings—and like the real world, not everybody is modeling standard gauge railroads. Narrow-gauge enthusiasts abound, and those that model 3-foot railroads use HOn3 equipment: HO scale, narrow 3-foot gauge.
Now these are distinctions that most people in the hobby hold to nowadays, though you'll see some people refer to HO gauge, for example: either people new to the hobby, or extreme old-timers, who are "grandfathered" in from the time when scale standards weren't quite as settled as they are today.
If the distinction isn't clear in your mind, it's no big deal. If you say HO gauge, I don't think anybody is going to whip out the ol' school yard stick and give your knuckles a bruising, but you'll sound so much more in-the-know by using HO scale, instead.