Okay, as should be obvious, I've taken quite a liking to Japanese rolling stock. Here's a bit of an explanation why, and—more importantly—some useful information for others who are "similarly afflicted." ;-]
Love Affair with Japanese Trains
When I say that the trains look cool, I mean sci-fi spaceship cool. Sure, there are some utilitarian boxy coaches on some suburban lines. But you do not have to look hard to find stuff like the Hayabusa and Super Komachi shinkansen, shown below, or assorted Super Express trains.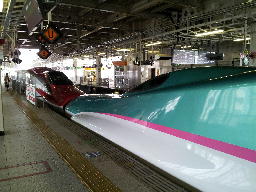 (above: Hayabusa and Super Komachi nose to nose; below: KiHa 261 series limited express trains in Sapporo station.)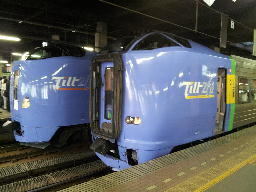 Even airporter lines, like N'EX (Narita to Tokyo) and Rap:t Limited Express (Kansai Airport to Namba Station Osaka) are beautifully liveried works of art, not merely tired stock pressed into service in their waning years.
Most trains' coaches themselves are spacious and comfortable, rivaling business class airline seats. These are not lean "hard class" benches, nor are they the rail equivalent of capsule hotels.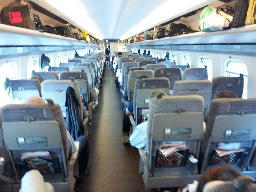 So of course, railroads are popular. Every toy store has train-themed toys (not just Thomas, but shinkansen, suburbans, and a variety of named trains) and the more serious hobbyist can, with only a modicum of effort, find highly detailed scale replicas.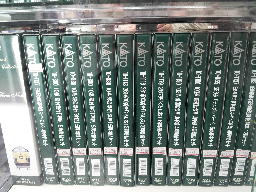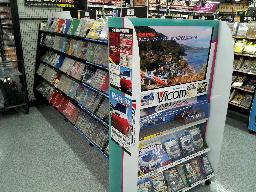 Even the less particular can get in the act. Book stores have aisles dedicated to books on specific named trains, or travel by rail in general, and even large DVD sections devoted to the rails.
Yes, you can even buy shinkansen chopsticks, for young and old alike.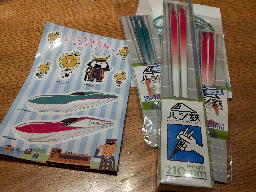 The devotion runs deep. And it's easily acquired.
To be honest, I didn't set out with the intent to model Japanese trains. My "dream layout" was—and still is—something a bit closer to home: 19th-20th century American railroads: the colorful and sometimes quirky early efforts in this newfangled form of transportation. But a confluence of circumstances took me to Japan, and one thing led to another. Now, I'm hooked.
I mean, it's so easy to like—to outright love—the trains there. And to be honest, nearly everybody does. You will find all manner of rail-fans haunting the stations and edges of right-of-way there: men, women, and a fair number of us foreigners.
The love affair is not superficial, either. Travel by train is an integral part of the Japanese lifestyle because it is so good—ubiquitous, dependable, fast, clean, easy, affordable—and because so many of the trains look so cool. In comparison, much of the US rolling stock these days is utilitarian and frequently looks like an ad-hoc mishmash of whatever is available and in a condition good enough to roll. Not so with Japanese trains: there, trains win design awards. The pride in the nation's trains shows.
Anyway, that being the case, I'll try to share my observations of both the trains themselves (both model and twelve-inch-to-the-foot varieties) and the landscape through which they run, with the hope that more folks catch the bug and decide to model Japan. Like taking the trains themselves, modeling Japan is really quite addicting.