Wow, it's been two years since my October 2014 Model Railroad Hobbyist article. If you remember, the article was about using sheets of foamcore to build a trial layout.
From the MRH article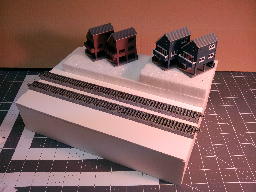 I played around with some ideas in the article, but nothing thrilled me...
In the article, I wrote that you really can do quite a lot with these small modules, but with the rush to publish, I didn't have the time to back that claim with anything more substantial...
... until now.
I built a couple of those foamcore modules for the article, and they've sat idle lo these many months. As far as scenes to depict (like the one on page 131) nothing really spoke to me.
But then my daughter did: seeing that I was putting together some shake-the-box structure kits in a futile effort to clean up the "pending projects" corner, she asked "can I do one, too?" Seizing the opportunity for a bit of daddy-daughter bonding, I let her finish one, and with that, she asked for more.
Nice.
Spying that long-neglected foamcore T-Trak module, I brought it down and suggested we could use those buildings to make a small scene. She agreed, and soon we decided the rough lay of the land—literally and metaphorically speaking—with the three buildings in the foreground (a small, quiet, rural station—inspired by ones we had seen in Okunakayama Kogen on the IGR line, and at Kakunodate on the Akita line—plus a pair of store-front buildings) suggesting the edge of town, and "maybe some trees, or a forest, behind..."
Excellent. The creative juices were flowing, and we were having fun.
True to modern life-styles, though, both of us (reluctantly) had to put it away for a few days. School, work, soccer—and mom—were calling.
On The Box: The Layout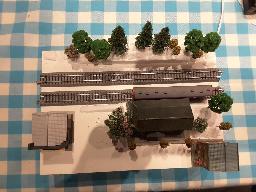 We played around with the buildings, foam, and trees, just laying stuff out to see how it would look. Once the muse spoke, the vision came together, et voila.
Styrofoam Terraforming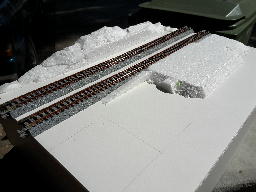 ... courtesy of Ikea packing materials
A few days later, I had a few minutes between things, so I did some styrofoam terra-forming, cutting the hillside across the tracks, and a raised platform on which the station would sit to be the right height for trains. A few dabs of white glue set those in place, and once again, the module had to be set aside. This is using that Ikea sheet styrofoam I mention in the article. So the cost of the terrain is essentially free (nothing that comes out of the $500 budget, anyway.)
Finally, the next weekend arrives, and my daughter and I can resume our little modeling project. Here we make the most of our tight budget by relying on a dirt-cheap material that looks super realistic, to boot.
I'm speaking, of course, about real dirt.
It's late summer, and around here (California) that means it hasn't rained in months, so the ground is bone dry. We go to a patch of bare earth that's pretty free of organic matter (dried weeds, and the like) and take a hammer to it, clawing up clods and smashing them to dust. Using a discarded kitchen strainer, we make sure we only keep the fines, setting them aside in a small bucket.
Since it was nearby—and since I had been eyeing it all summer—we also went and picked up a handful of dried pine needles. These were a perfect "redwoody" color, and would also come in handy. And of course, being as dry as they were, there wasn't likely to be any unwelcome guests in them. These got a stint in an old coffee-bean grinder I found at a garage sale (the thing worked just fine, but the white plastic had yellowed on one side, so the owner didn't want it anymore... a condition that didn't bother me in the least.)
So now my daughter and I have scale dirt, and we have scale needles to go beneath the conifer forest.
Just one more thing: a quart of earth-toned "Oops" latex paint (hitting the budget at pennies above $2.) Okay ... maybe two things: a bit of masking tape, to protect the rail and any part of the module we don't want getting "natural" (such as the sides of the module, and the places where the buildings will go.) But I'll assume you have that laying around and don't need to buy another roll.
Time to get dirty. With the module's important parts masked off, anything that's left is fair game for a reasonable slathering of latex paint. This does two things: covers up the white of the foam, and acts as glue. That's right... as soon as the paint is down, we sprinkled the dirt we sifted right onto the glistening paint, so the wetter the paint, the better.
Paint and Dirt
Masked off and ready for oops paint: $2 at the local hardware store
Painted and sprinkled with dirt
More dirt, and a dose of matte medium
Closeup: matte medium looks milky wet, but dries clear
It was a warm day, and the paint was drying somewhat faster than we could keep up, so we cheated a bit. I had some diluted matte medium, which I could spray onto the dirt, and we gave it another sprinkling for better coverage. For the purposes of budget compliance, you can get similar results from very thinned-down white glue, with just a cap-full of rubbing alcohol to make it sink into whatever it is sprayed on. We also did this on the "leaf litter" (the ground up pine needles) we had sprinkled on the soon-to-be-forest floor.
Being the warm day, we did not have long to wait. Turns out, in the time it took for us to clean up the tools and stuff, the module was ready for the next phase: buildings and plantings.
Back at the workbench, we glued down the buildings where we wanted them. Then I pulled out a few cheap bulk trees (you can search eBay for scale trees, and get dozens for a few bucks) and we played landscaper for a bit. Once we were happy, out came the white glue, and we gave the trees a more permanent home.
Bear in mind, though, that these cheap trees are not high quality... not what one might call front-of-the-layout grade. Still, for what my daughter and I were doing, they were pretty reasonable. She was quite tickled with what she had made, and I have to say the module holds up pretty well, too. (Even though I don't expect to see this module on MRH, with the caption "Yes, it's a model!" ;-])
Pretty, Easy
Streetside at the station
A look down the rails
The garden beside the station
Down the rails in the shade
The big takeaway was that we could build a pretty good looking module for not a lot of money, and have fun doing it. Of course, there's more we can do, if we're so inclined... but that's the fun of the hobby: there's no hard and fast point when you need to say "I'm done!"