"Way back when," my first "real" layout was on a framed 4'x8' piece of plywood, and I used store-bought (Atlas #4, I think) switches and flex track. Back then, it seemed like everything was code 100 (1/10") rail, so it all worked together, but in the back of my mind, I wasn't really happy with the results. Partly the 18" radius, but also because of the limitations of stock track. I just couldn't put things where I wanted them.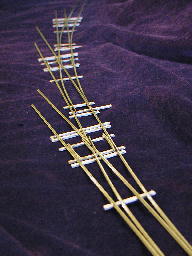 I've been intrigued by the thought of hand-laying track, but thought spiking was tedious and prone to maintenance, and constructing a hand-made switch was an exercise in fiddly frustration. When I read about the Mojave & Panamint RR using rails soldered to printed-circuit ties, the idea really appealed to me. I did some research and found somebody that was selling switch templates to make precise hand-crafted turnouts.
I was sold. I got a template and tried my hand at it, and I have to say I'm impressed. It takes a few tries to get a really sweet looking switch, but even the first one wasn't too bad (not that I'd use it on any layout, though ;-) I've been using them for about a year now, and have found that not only is it "not that hard"—but it's really fun. My most recent effort was to build a three-switch yard ladder as a single piece, and the system made it so simple, I had working track in about two hours. Another hour of fiddling with the critical points—the frog and points—and I've got a set of switches so quiet, you don't even hear the wheelsets click over the frogs. Nice.
So I've decided: hand-laying is absolutely the way to go for me.