A set of module standards based on, and plug-compatible with, official T-Trak modules.
Background
In a recent trip to Japan, I got hooked on much of the passenger rolling stock and motive power of Japan Rail.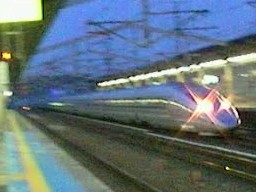 A 500-series "Nozomi" slams by at 180 miles per hour!
Compared to the stuff trundling on US rails, this stuff looks cool... especially the Shinkansen —bullet trains by another name. Some people get all excited about Ferraris and the like, but until you've had a quarter mile of sleek steel, aluminum, and glass slam by you a mere dozen feet away, you haven't felt excitement. (Okay, so that's my opinion, anyway. ;-)
Being the rail-fan that I am, I wanted to see if I could bring home some souvenirs. I model in HO, so I was rather disappointed to find out that there's not much available in ol' 1:87.1 in Japan. But model railroading is alive and well: it's just at one-hundred-sixty-to-one. N scale.
So I stuck my head in on Tenshodo and picked up some Shinkansen trains while I was there. I figured I could decide how to run them later, once I was home.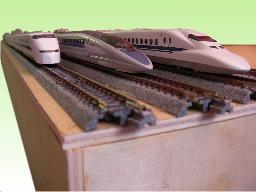 Beautiful 1:160 scale models of the 300, 500, and 700 series Super Express trainsets
Like I said, I'm an HO sorta guy, but I thought it sure would be nice to see these little beauties (and they are exquisitely modeled by KATO and Tomix!) run... preferably on something more than temporary flex track laid out on the floor or a table. The quest was on.
I've known about N-Trak for decades. It's where N-scale modelers build 2x4 foot portable modules (as opposed to full layouts) and join them together to run trains at meets. For me, these were (1) too big, and (2) wouldn't allow me to run trains when I wanted to.
Hmmm... a shelf layout, maybe... ?
About T-Trak
In my wanderings, I stumbled upon T-Trak, a system with modules about the width and depth of a piece of paper. A series of these could easily fit on a shelf. And in scale terms, that's about 110 x 160 feet. Not huge, but still enough to provide some scenery. Sort of like a slender "core sample" of the world adjacent to the right-of-way.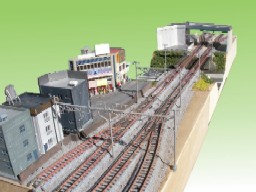 Three modules - a "core sample" of track-side scenery
What I Like About T-Trak
The form factor—the size and shape of these mini modules—is exactly what I'm looking for. They're also quite simple to construct with just quarter-inch plywood. The fact that it's based on KATO UNITRACK, while expensive, means that it's easy to lay track in interesting configurations, and the snapping "UNIJOINER" rail joiners do an excellent job of holding the track—and modules—together. No C-clamps and short bits of track to connect modules!
The module size is small enough that I can create a simple layout, yet versatile enough that I can take my modules to a T-Trak meet, and become part of a much larger layout. Kinda fun.
What I Don't Like About T-Trak
The plan was originally conceived to create tiny table-top layouts. (It's been pointed out—quite rightly—that quite extensive layouts have been assembled at meets, so despite the compact module size, get enough of them together, and you've got a big layout.)
The compact aspect is really cool. The problem is, in order to do so, the standard—at least everything I've seen published so far—calls for very tight curves.
I mean really tight turns. Turns too tight for anything with long wheelbases, like heavyweights or streamlined pasengers, modern high-cube box cars, or double-stacks, and of course my Shinkansen trains, even when building the "alternate curve" corner. For giggles I built some alternate curve modules, and I have to say that it makes all but the shortest rolling stock look really toy-ish. In my case, a 500-series or 700-series coach hangs over so much (and the coupler/diaphragm unit is pulled to its limits) on such curves, that operation suffers. This shouldn't be taken as a criticism of T-Trak, by the way. Short wheelbase rolling stock and motive power works just fine on these modules, and things like trolleys or light rail look really quite good. Still, I'm exploring other—gentler—corner strategies more suited to what I'm looking to model...
Thus, Shelf-Top Modules
Okay, so T-Trak is cool, but not perfect (for what I want to model.) No big deal. It was just founded for a different purpose: fitting on one, maybe two, table tops. So rather than throwing away the baby with the bath water, I've formulated the following module specifications, which I'm modeling to, and I'm posting it here if you want to as well. These modules don't contradict the core tenets of the official T-Trak standard, but remain essentially compatible with it, so modules built to this standard should, for the most part, still conform to the official T-Trak standard.
So here are some basic tenets of the Shelf-Top Modules:
Alternate track spacing - the T-Trak standard calls for two tracks, placed immediately next to each other (resulting in 25mm track centers.) But the standard also describes an "alternate" track spacing at a more normal 33mm center-to-center standard. This is good, because much of KATO's track (bridges, viaducts, crossovers, and more) are designed with 33mm centers. So all Shelf-Top Modules will be based on 33mm centers.
Wider Curves - KATO recommends that their Shinkansen trainsets operate on no tighter than 383mm radius track. I'm currently experimenting with the KATO 718mm radius track to see if it can be used for both mainline tracks. Also, I'm not fond of the oddball 14⅜" size which limits the number of combinations possible. Creating non-rectangular layouts result in the possibility of gaps, stemming from the 14⅜" curve modules not fitting neatly into the standard 310mm (12⅛") grid. The Shelf-Top Modules introduce curve modules which are a multiple of the basic 310mm module grid size (say, a 620mm x 620mm "L" shape.) There are some issues with this, owing to limitations of KATO track lengths (you end up having to use lots of odd sized straights, or you have to hand-lay track.)
No Backdrops - This is a bit of a twist, but one I think offers a lot of opportunity: there is no front or back to a module, allowing the module to be seen from either side. This is convenient, because transition modules (see hereafter) allow an otherwise "boring" straight double main-line track to meander back and forth; sometimes the track is in the foreground, sometimes in the background. Depending on what's next to it, a module might be seen from one side or the other, doubling the visual possibilities while on exhibit, at a meet, or on somebody's shelf. As a result, backdrops are separate units on stands that appear behind the string of modules.
310mm Grid - I've tried to constrain all module sizes to multiples of 310mm, including the curves. This allows for some very complicated layout shapes without the need for any special single-purpose modules, or odd sliver shapes, as is introduced when, say, a 14+ inch curve module is incorporated into a layout based on 12+ inch modules.
The idea is to make a module system in which most modules can still participate with T-Trak "constraints"—and so participate in ordinary T-Trak meets—but improve on some of the shortcomings that T-Trak presents to me.
About the Name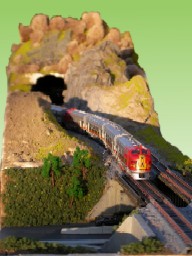 As evening sets, the Super Chief pulls into town. These T-Trak extensions are not just for modeling Japanese rail!
What's in a name? Quite a lot, as I found out.
The original term I used was "Shinkansen Extensions". Unfortunately, when most people hear the term "Shinkansen" they think "bullet trains", and truth be told, I became interested in T-Trak because of the potential it had for me to run some trains I picked up in Japan. Strictly speaking, Shinkansen means "new trunk line". As Wikipedia points out, it refers just to the track, not the trains that run on it, which are technically "super express". But almost nobody—not even the meticulous Japanese—are diligent about the distinction. So yes, Shinkansen Extensions were to run bullet trains (among other things) but more importantly, they're a new bunch of standards to extend the opportunities for modeling and operations.
That said, I didn't mean to suggest, with a name like "Shinkansen extensions," that this is only for modelers of Japanese railroads—that's just what I'm doing. Still, several people have been confused by the name, so I felt it was better to jettison it in favor of Shelf-Top Modules.
If you're so inclined, feel free to use these ideas to model whatever you want: after all, you'll be putting the scenery onto your modules, and running whatever rolling stock you want! Just bear in mind that the more you vary from the basic T-Trak standards, the more you risk not being able to join in the fun at meets. If you expect to only use your modules at home, that's probably not a concern. On the other hand, if you think that part of the charm of these modules is linking up with others, well, you're probably best served to stick with tried and true T-Trak specifications. After all, when in Rome, do like a Roman. ;-)